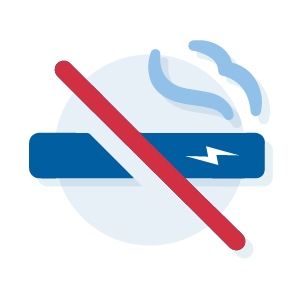 Empowering NYC youth to be vape free.
CATCH Global Foundation is excited to announce a pivotal partnership with New York City Public Schools to address the vaping epidemic among New York City youth through CATCH's evidence-based vaping prevention program, CATCH My Breath.
In collaboration with the New York City Department of Education and the New York City Department of Health and Mental Hygiene, CATCH Global Foundation will provide free vaping prevention training and resources to public school educators serving middle and high school students during the 2023-24 and 2024-25 school years.
This initiative will additionally engage middle and high school students across New York City in youth empowerment and service learning opportunities via a citywide public service announcement (PSA) contest in the 2024-25 school year.
Thanks to support from the New York Health Foundation, CATCH My Breath is pleased to offer up to 210 educators access to the following in the coming (2023-24) school year:
Live CATCH My Breath program implementation training, allowing educators to implement CATCH My Breath with fidelity;
Live, in-person training on how to utilize CATCH My Breath's customized parent resources allowing educators to host parent outreach events at their school campuses;
Access to a quarterly vaping prevention newsletter designed specifically for educators participating in the NYC cohort;
Access to quarterly Communities of Practice events, giving educators the opportunity to learn best practices and navigate questions with their peers and a CMB expert;
Resources to engage students in the NYC Youth Vaping Prevention Public Service Announcement contest, open to all middle and high school students across the city in the 2024-25 school year.
Despite the numerous health consequences, vaping and e-cigarettes continue to gain traction among youth in New York City. In 2019, one in six high school students reported using e-cigarettes. Nearly five times as many high school students in New York City use e-cigarettes than smoke cigarettes. In 2018, one in 15 middle school students reported using e-cigarettes. E-cigarettes are particularly harmful for youth because those who use them are more likely to start smoking cigarettes, and additionally, nicotine impacts youth brain development.
Sign Up
To sign up to join the CATCH My Breath NYC Schools initiative, please complete the interest form below! Training seats are available to interested NYC educators on a first-come, first-serve basis.
Questions? Please contact us at [email protected] anytime!
CATCH My Breath is a nationally-recognized and evidence-based youth nicotine vaping prevention program for students in grades 5-12. Developed by researchers at the University of Texas School of Public Health, CATCH My Breath is the only nicotine vaping prevention program recognized by the Substance Abuse and Mental Health Services Administration (SAMHSA) as an effective school-level intervention and is proven to prevent the initiation of vaping among students by up to 46%. CATCH My Breath currently reaches more than 1.8 million youth in over 5,000 schools nationwide.
Learn More
The goals of the CATCH My Breath NYC initiative is to reduce the initiation of nicotine vaping by middle and high school students by building the capacity of educators to deliver vaping prevention education to students and parents, and empower students to choose and advocate for a vape-free lifestyle.
Press Release
What People Are Saying
I didn't know that vaping was so bad. A lot of people do it because other people do it. I would tell them to stop now that I know how bad it is.
— 8th Grade Student, Judith K. Weiss School

I really enjoyed reading through the new 5th and 6th grade curriculum. I thought the teachers notes were very helpful and the activities and videos were age appropriate. Congratulations to your team for completing this large undertaking. I can't wait to teach the updated curriculum.
— Emily Hayes, Williamson County Health Department